Flying in Malta – Air experience flights (open cabin)
Price from 75€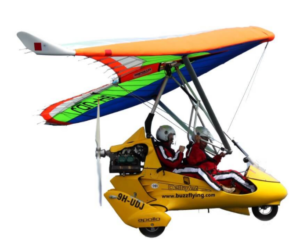 Apollo Delta Jet 2
The trip is designed for one person.
You can choose from 3 different flying options:
Introductory (30 minute) flight – €75
Typically limited to parts of mainland coastal Malta, and may cover areas such as Valletta's Grand Harbour, Dingli Cliffs, Xemxija Bay, Golden Bay, Gnejna Bay.
*Maximum passenger weight 100 kg
2. Extended (45 minutes) flight – €110
Depending on the runway that departure is done from, we will follow either the east or west coast of Malta up to Comino, then return via Malta's opposite coast. Areas of interest – Dingli Cliffs, Golden Bay area, Anchor Bay (Popeye Village), Blue Lagoon in Comino, Mellieha Bay, Xemxija Bay and St Paul's Islands, St Julian's and Valletta's Grand Harbour.
*Maximum passenger weight 100 kg
3. Premium (75 minutes) flight – €145
For the ultimate flying experience covering the main Maltese archipelago! The same route as the Extended air experience flight is covered, but we will then continue to the beautiful island of Gozo and explore its various features such as Ramla l-Hamra Beach, the Inland Sea in Dwejra, Xlendi, Ta' Cenc cliffs, Mgarr ix-Xini, and Mgarr Harbour.
*Maximum passenger weight 95 kg.
The routes described depend on weather conditions and any air traffic restrictions, and may (however rarely) vary on the day. We are mostly flexible in our routes, and if there and particular areas you would like to fly over, feel free to Contact us
About the aircraft Apollo Delta Jet 2
This is the first time in Malta that a flex wing type microlight is being used for flight training and air experience flights. It was purchased brand new from the manufacturer, Apollo Ultralight Aircraft in Hungary, powered by an 80 hp Rotax 912UL driving a three-bladed propeller. It was then flown from Hungary to Malta by flying instructor Leon Xuereb.
The Apollo Delta Jet 2 offers a whole new dimension to flying – and at the end of the day you can just fold the wing and tow it home on a trailer to your garage! Think of the difference between a flex-wing (also referred to as a "trike" or "weight-shift") and a more "traditional" aircraft like the Ikarus C42B as the difference between a car and a motorcycle!
Cancelations for reservations for a full refund accepted up to 24 hours in advance
In case of refund, a transaction fee of 2.5% may apply, depending on the payment processor