Places of Interest
Top 11 places to visit in Malta
"What to visit in Malta?" If this question has come to your mind, you found the right site! In the following, we will present the best places to visit in Malta for an enjoyable vacation.
Malta is a small island located in the center of Mediterranean sea. Because of the important central location, Malta has its unique topography, enviable weather, rich history, and friendly people.
The top 10 places we present include historic places, heritage sites and stunning nature sites. Certainly, you can discover them by your own, but our professional guide will make sure that you will have a unique experience.
1. Valletta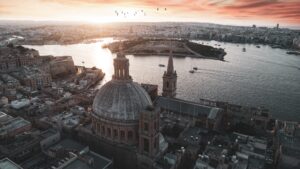 To visit Malta, you should not miss the capital and heritage site Valletta. Valletta is a rich historical fortified city built by the Knights of St. John, a Roman Catholic order, since 1500s. "A city built by gentlemen for gentlemen". With the forts, bastions, the cathedral, the ruin of the Royal Opera House, fountains and gardens, you will feel step into historical scenes.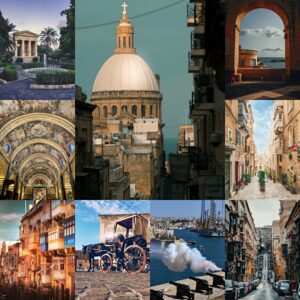 Things to see in Valletta:
Upper Barrakka Gardens (must see!)

The Saluting Battery

Auberge de Castille palace (currently office of the Prime Minister of Malta)

Saint John's Co-Cathedral (must see!)

Remains of Royal Opera House

Fort St. Elmo

Church of St. Paul's Shipwreck

Lower Barrakka Gardens

Siege Bell War Memorial

Manoel Theatre

National Library of Malta

St. Elmo Breakwater Bridge

The Palace state room

Valletta water front

The Malta Experience

Triton Fountain in front of Valletta gateway entrance

National Museum of Archaeology

Hastings Garden

Victoria Gate

Old Mint street
2. The Three Cities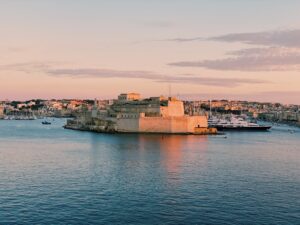 Standing on the Upper Barrakka Gardens in Valletta, you will be amazed by the stunning view in front of you and wondering what the names of three peninsulas are. They are the Three Cities: Senglea, Vittoriosa (Birgu) and Cospicua (Kalkara)!
Taking a taxi boat across the Grand Harbour from Valletta, you will reach the middle city Vittoriosa first. It was the capital city of the Knights of St. John before Valletta has been founded. The first site that catches your eye on the left will be Fort St. Angelo. During The Great Siege, Fort St. Angelo was the most important site to defend the Turks. Nowadays, Vittoriosa is the most popular harbour for superyachts. Walking on Three Cities' streets, you experience a part of Maltese authentic life. Having a coffee at Vitttoriosa square, enjoying the local Ftira and Pastizzi under the sunshine, you will understand the meaning of the Maltese word "Mela".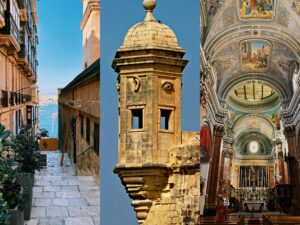 Things to see in Three cities:
Fort St. Angelo

Inquisitor's Palace

Vittoriosa street walking

Isla Safe Haven Gardens

Birgu Waterfront

Malta Maritime Museum

Fort Rinella
3. Mdina City – The Silent City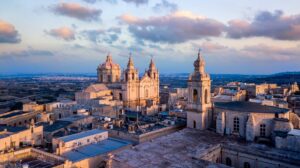 Why is Mdina called Silent City? Mdina is the oldest site inhabited since Phoenician time, around 8th century BC. It was founded as Maleth, and later renamed Melite by Romans. It remained as a capital through the whole medieval time till The Knights of St. John taking over the island. The Knights shortly moved to Vittoriosa (Birgu) and left Mdina behind. Even though after their move, nobility and families still inhabited the city of Mdina, but it was never as busy as it used to be. That is how this nickname started.
Mdina is located on the second highest site of Malta, while the highest one is Dingli Cliffs. It is located distanced to the sea which is perfect for defense and inhabitation in ancient times. With narrow medieval streets, Baroque style architectures, high city walls, a Catholic Cathedral and churches, every stone in the city is telling you the glorious stories of Mdina in today's silence.
4. Hagar Qim and Mnajdra temples (both temples are part of one prehistoric site)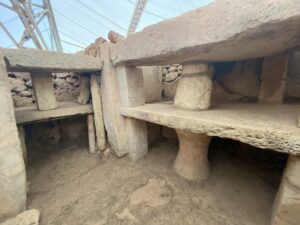 For history lovers, Hagar Qim and Mnajdra certainly are the temples you don't want to miss.
Hagar Qim is a site well-known to feature the tallest stones dating back to 3800-2000BC.
The site is located on a hilltop, facing the sea and the islet of Filfla. It is listed in the UNESCO World Heritage List.
5. Hal Safieni Hypogeum
Hal Safieni Hypogeum is an underground prehistoric burial site. It is documented in the UNESCO world Heritage list. The earliest remains date back to about 4000BC, and the recent remains found date back to ca. 1500BC. It is a fascinating site to know the species evolution on this small island.
6. Blue Grotto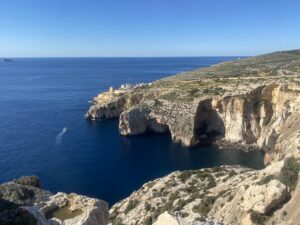 Blue Grotto is a natural rocky arch located at Zurrieq, a southern city of Malta. This phenomenal arch is largely standing in the crystal-clear sea, and looks like a elephant trunk. Zurrieq is well known for astonishing caves. At Blue Grotto you can get on a taxi boat, around the sea coast, discover the inside of this amazing arch.
7. Marsaxlokk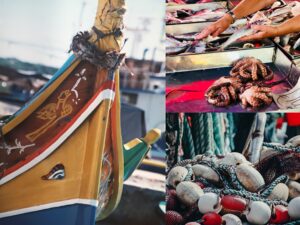 Marsaxlokk is a fishing village located at the south of Malta. It is well known for its fish market every Sunday. Local fishermen trade their fresh catch in the morning, selling their produce to people only on Sunday. It has become a tradition of this village. On the fish market, you can find fresh fish, local traditional food, fresh vegetables, fruits, traditional handmade knitwear, and souvenirs. At Marsaxlokk there are many fine seafood restaurants which always attract tourists and locals.
8. Gozo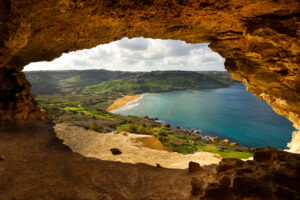 (View from Mixta cave overlooking Ramla bay)
Gozo is the second largest island of the Maltese archipelagos. It is located at the north side of the island of Malta which has been inhabited since thousands of years already. By its own topography and history, it attracts not only tourists but also locals. It is more agricultural and less developed than the island of Malta, which makes it greener. From the historical side of view, there are temples, heritage sites, churches, museums, a fortified citadel and towers to visit. With the nature, there are plenty of beaches, rural landscapes, cliffs, caves etc. Unfortunately the famous Azure window collapsed in 2017, however it is still a stunning area to visit. A variety of outdoor activities are available in Gozo. Gozo is especially well-known for being one of the most attractive Scuba-diving sites in the world.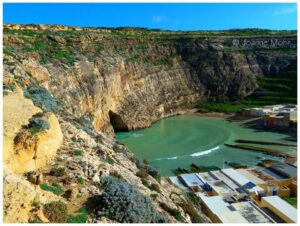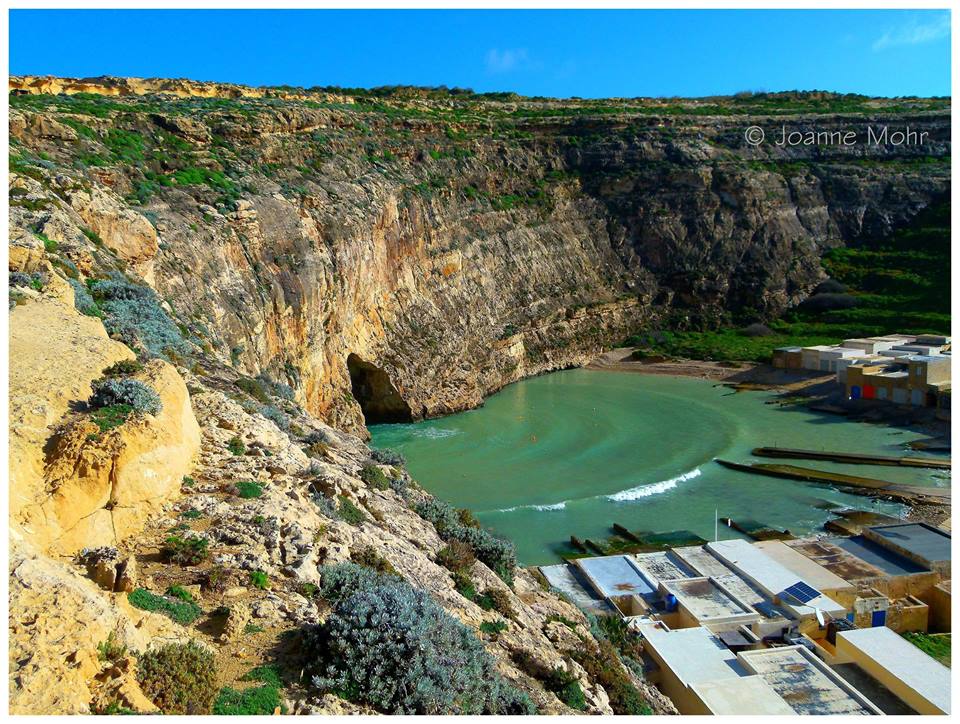 (Inland sea view)
Things to see in Gozo:
The Citadella, Victoria

The Ggantija Temples

Ta'Pinu Shrine

Xwejni Salt Pans

Azure Window

Sanat Cliffs

The Xlendi Bay and Tower

Ramla Bay

Tal-Mixta Cave

Wied Il-Ghasri

Hodoq ir-Rummien

The Mgarr is-Xini tower

Inland sea, Fungus rock and fallen Azure window ( Note: Azure window collapsed in 2017) located in the same place.
9. Comino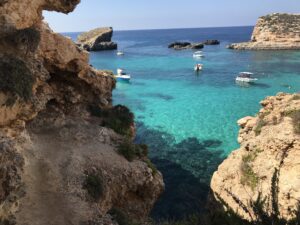 Comino is the smallest island of the three archipelagos in Malta. It is between the north of the island of Malta and the south of Gozo. At Comino's west coast you will find the Blue Lagoon, which is well known with its crystal-clear water and white sandy seabed. Every year it attracts thousands of visitors. At the south-western coast of Comino, you will find many phenomenal natural caves above the crystal-clear waters below the cliffs. At the northern part of Comino, there is Santa Maria Bay and Santa Maria Caves. People are sunbathing or discovering exciting caves here. Since Comino is not inhabited, camping is one of the choices for those who love to sleepover.
10. Sunset at West Coast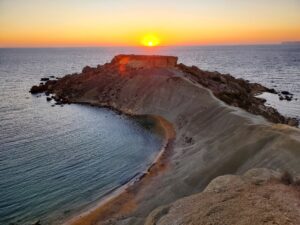 On the west coast, you can find some stunning sunset spots by the beaches. Certainly you can see sunset at most of Malta's west coast, however at the following sites, you can enjoy the sunset with beaches, hospitality establishments, and facilities. They are also rather easy to reach.
Riviera Beach

Golden Bay

Gnejna
11. Dingli cliffs
Certainly the most steep cliffs Malta can boast, reaching 250 meters above sea level.
Dingli cliffs is certainly the the best place to see the sunset!